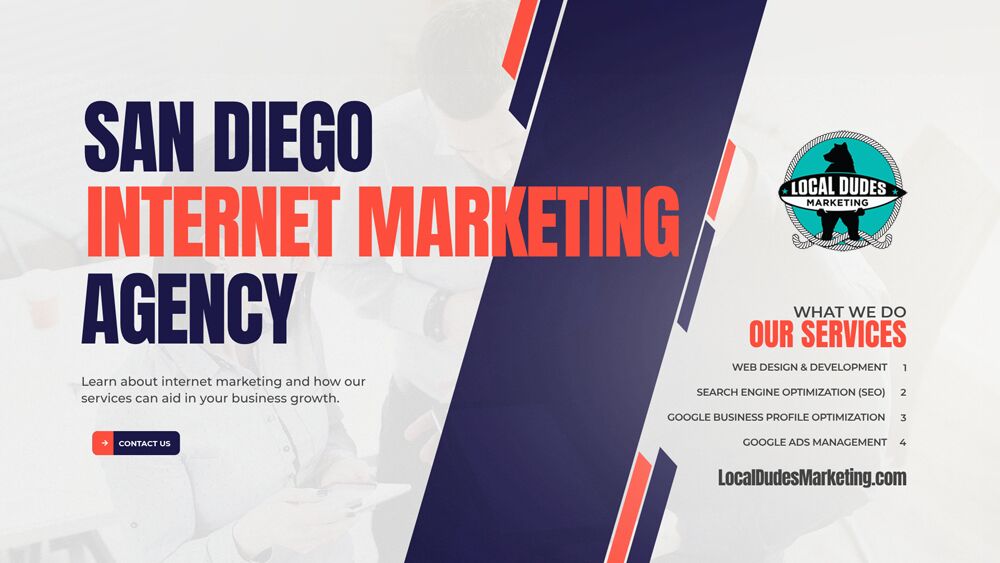 Learn How Internet Marketing Can Help Your San Diego Business Grow
Did you know roughly 81% of consumers do research online before making a purchase? Now if your business is not online, how do you expect to be found.
Today I'll share with you why you should care about online digital promotion and how this San Diego internet marketing company can help your small business in 2023 and beyond. The digital marketing landscape is constantly evolving and if your company is not online, you will get left behind.
COVID in particular has shown the importance of having a substantial online presence for your business. What I mean by this is not just having a Facebook page that you infrequently post on. If you're not actively promoting your business online, your business more than likely will fail.
With the majority of people obtaining their information online, the need to promote your business digitally is essential for success, regardless of whether your company is service or retail-based. While you may have already grasped this if your business operates exclusively on the web, there are those who assume online marketing isn't a necessity. Allow me to dispel this misconception. If you're not getting found online, you are losing out on a substantial amount of business.
The importance of online marketing has never been higher and the best way to ensure success is to consult with an experienced specialist. My name is Mike, and I'm the founder of Local Dudes Marketing based in San Diego, California. I've been helping small businesses across San Diego County reach their goals through successful internet marketing strategies.
What is Internet Marketing

According to Wikipedia, internet marketing is the component of marketing that utilizes the internet and online based digital technologies such as desktop computers, mobile phones and other digital media and platforms to promote products and services. To put this in layman's terms, internet marketing encompasses any connected or smart device that has the capacity to perform web searches, receive emails or display ads through connected devices.
Marketing conducted over the internet is commonly referred to as either digital, online, or internet marketing. Through these online channels, companies are able to reach wider audiences, better establish their brands, and ultimately promote their products and services.
The early days of internet marketing mostly comprised email marketing and placing banner ads on high trafficked websites. However, in today's world it has grown to a multichannel marketing platform with the ability to reach millions of people with the click of a button.
The internet, web design and apps have opened the world to the mass media explosion that you see online today. You ask why should my small business care about this and the answer is simple: you have an opportunity to promote your business like never before. All thanks to the inter web.
Online Internet Marketing Opportunities
Online purchases have been growing rapidly for years. However, the COVID pandemic blasted online growth into another level. Many purchases made today are either done online or through an application. There is no time like the present to get you small business on the internet. In fact, if your business is not currently online, you are doing your business a great disservice.
The decision to use internet marketing as part of a business's overall marketing strategy is strictly up to the company of course; but as a rule, digital marketing has become a part of nearly every company's plan.
Over the years the lines of blurred and many marketing efforts include some form of online internet marketing even if you are a brick-and-mortar business. Many companies use online marketing to helping increase branding and foot traffic to their storefronts.
Although internet marketing continues to develop, here are some of the more popular digital marketing channels that can be used to grow your small business.
SEO Marketing
Social Media Marketing
Email Marketing
PPC Marketing
Web Design
Paid Advertising
Now not all these marketing channels will be a perfect fit for your type of business and finding the right ones can be a bit of trial-and-error process. This is where hiring an internet marketing expert can come in handy.
What To Look For When Hiring a Internet Marketing Firm in San Diego
Where to start or just don't have the time to do your own or online marketing. What should you do? Well, the obvious answer is you should hire a digital marketing agency. But you need to know what to look for before hiring someone.
Number one: Don't hire an online marketing agency that doesn't have traffic to their own website. If someone doesn't have traffic to their own website how are they going to get you traffic to your website?
Number two: look for case studies and testimonials. If a company doesn't have case studies and testimonials, how do you know they're going to do well for you?
Number three: look for someone who's tactical. Yes, strategy is important. Concepts are important. But if someone doesn't know how to implement it, doesn't matter how smart they are. They're never going to be able to get you the results.
Number four: It is important to determine which personnel at the agency will be assigned to your account. While it is not impossible to obtain satisfactory results from less experienced staff, it is essential to keep in mind that lower level workers may be prone to a lack of knowledge and expertise.
Number five: Regular communication with the agency. Ask them, are you going to be providing reports, weekly calls? Are you going to be doing regular email communication? If not, you're not going to know what's happening with your account. Plus this creates a more transparent process which should be better for the client.
Number six: Ultimately, consider working with people who have prior knowledge of your industry. While marketing principles are largely universal, collaborating with professionals with specific experience may offer insights into the best digital marketing approaches for your company.
To find a successful internet marketing agency, consider past work experience. Use your intuition to determine who will best suit your business needs. I would love for you to select Local Dudes Marketing for your San Diego internet marketing needs, but I am biased. Ultimately, the choice should align with what is best for you.
Top Internet Marketing Company in San Diego, California
Would you be interested to hire an internet marketing agency in San Diego that possesses all the values above? Well good, you are in luck because Local Dudes Marketing has all these traits and more.
I have over 16 years of digital marketing experience. We're distinct as a top San Diego firm for reliability and the results we produce. It's a full creative Digital Marketing Agency based in San Diego helping small businesses from website building, email marketing, target marketing to PPC marketing & search engine optimization for years.
We could simply tell you to trust me but that probably seems biased; Let me show you instead, let's use my website as an example of SEO marketing skills. The industry we're in very competitive, think about we're in an industry filled with SEO experts and big digital marketing agencies yet we were still able to outrank them.
This bodes well for and your small business; this not only shows how highly skilled we are, but we can do this for you on a limited budget and outrank much larger companies.
We aim to provide online marketing services that generate results on a local and national level for small businesses in San Diego. Our evolution over time has prepared us and given us the knowledge we need for the new trends of tomorrow.
Our San Diego Internet Marketing Services
If you have fantastic products or services to sell in the city of San Diego; you most likely already know you should be marketing online, but you just don't know how to do it; hire an internet marketing consultant to handle this work for you.
Contact Local Dudes Marketing your one-stop shop for all kinds of online marketing. Digital marketing has several components to consider and this small business marketing agency can help find the appropriate channels for your company. We understand the different internet marketing services available and know which that work well for certain industries.
What Local Dudes Marketing Can Do For You?
You deserve an eye-catching, responsive, and professionally designed website. Let this San Diego web design firm create you a one of a kind site that will surely help your business standout. We differ from other design companies because we understand how your website and marketing go hand in hand.. So, if you 're looking to have an online presence that not only looks good but attracts clients then call us.
Search Engine Optimization:
Need more eyes on your site than look no further. We can create a campaign designed to generate relevant traffic and increase your brand exposure. Here at Local Dudes Marketing, we focus on providing quality and affordable SEO services to the San Diego County.
Email marketing is one of the original forms of online promotion. Most people view email marketing as the distribution of sending promotional emails of products and services but it's so much more than that. Email is not only used for soliciting business but provides a platform to stay connected with your current clients, along with being able to ask for reviews about products and services they have bought.
Local marketing is a blend of multiple digital marketing channels that allows for local targeting of geographic areas. The goal is maximize your exposure and increase the return on your investment. Our local marketing services are for companies looking to increase traffic and sales from a specific geographic areas.
PPC marketing, also known as paid advertising, allows companies to market their products and services more quickly than other forms of marketing. You can often have a campaign designed and running in less than a week. Pay-per-click is a bid based system that you pay an agreed-upon amount for every click or action that you receive from your text, image and video ads.
Well, if you don't know what social media sites are by now, then I'm not sure what rock you have been hiding under. Social media is simply leveraging the traffic aka the users of these sites. Some of the more popular sites are Facebook, Twitter, Instagram, Reddit and Pinterest. Each site tends to skew towards a certain demographic. For instance Facebook has older users, while Pinterest has a large female following. Social media marketing is about choosing the right social network audience for your business and interact and post content that draws in followers of your products and or service
Here at Local Dudes Marketing, we help small to medium-sized businesses gain more customers to internet marketing. We can guide you through the internet maze so all those new customers can find you quickly and easily.
We have many years of experience successfully helping small businesses grow their customer base through our local internet marketing services. Let's have a conversation on how this San Diego internet marketing firm can help your company.
The next step is in your hands and can ultimately mean the difference between a successful company or not. However, if you do nothing, your business will struggle. Don't let fear of the unknown get in the way of having a successful business.
So, call us or drop us an email to take advantage of our no obligation free consultation and quotes. Remember, every minute you think about how to gain more customers, real customers are picking up the phone and contacting your competitors. Don't get left behind, do something positive for your business today. Who knows, working with this San Diego marketing company could be the best decision you ever make.